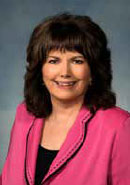 Lynn Alexander, Senior Vice President and Chief Marketing Officer, Lynn Alexander is known as a thought leader and policy influencer. She currently serves as Senior Vice President & Chief Marketing Officer for Presbyterian Villages of Michigan (PVM).
She also served for seven years as founding board member for the Michigan Health Endowment Fund. Ms. Alexander has served as an appointee for two Michigan Governors, a Michigan Attorney General and a Michigan Secretary of State. Prior to her government service, Ms. Alexander was a frequently requested speaker for Fortune 500 corporations, specializing in public speaking and communication.
As Senior Vice President and Chief Marketing Officer for PVM she is responsible for planning, organizing, implementing and evaluating all public relations and government affairs and supervises the Sales & Marketing and Wellness departments. She earned a BSW from Defiance College and a MA from the University of San Francisco (Lone Mt. College).
Active in her community, Ms. Alexander was a founding co-chair of the Oakland County SAVE Task Force (Serving Adults Who Are Vulnerable and/or Elderly) to combat elder abuse and exploitation. For over twenty years, Lynn has served on several boards for The Institute of Gerontology at Wayne State University. Her career has also included working as a member of the Oakland County Executive office. Many organizations have recognized her leadership with awards, most recently with the Crain's Notable Women of Nonprofits, Alumni Achievement award from Defiance College, Innovators Award by the Oakland County Mediation Center and the Call to Justice Leadership Award from Elder Law of Michigan. She was also recognized with the Lifetime Achievement Award by the Area Agency on Aging 1B and the Liberty Award by the Oakland County Bar Association. Ms. Alexander is the author of Caregiver Tsunami, a guide for caregivers. She resides in Bloomfield Township.