On Friday, June 21st twenty-two PVM senior living communities gathered at the Suburban Collection Showplace in Novi to vie for the coveted Village Victory Cup trophy. Throughout this fun-filled day of camaraderie and friendly competition, residents competed against one another in a variety of games that included the Wellness Walk, the Puzzler, the Kick-a-Roo, the Hoop Shoot, the Beanbag Toss, a Poetry Contest and of course the Balloon Volleyball tournament.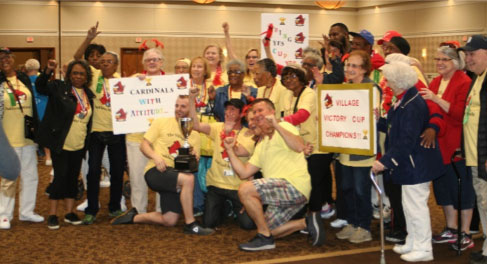 In one of the closest contests ever in the 14 year history of the event, the Village of Oakland Woods emerged victorious securing the win by a mere 6.26 points.
In addition, for the second year in a row, the Village of Oakman Manor won the Spirit Award. Full of energy and on their feet nearly the entire day, the OG's (as they like to refer to themselves), not only cheered for their own team, they cheered for their competitors too. What a great show of sportsmanship!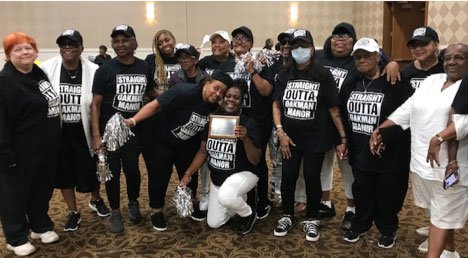 Also repeating as champion was the Village of Spring Meadows, claiming the Virtual Village Victory Cup trophy by a slim 14.58 points. Communities that participate in the Virtual Village Victory cup are located 100 or more miles from the PVM Home Office and play the games at their respective communities. They report their results to the PVM Wellness Department, who compiles them to determine the winner.
Collectively, between the Village Victory Cup and the Virtual Village Victory Cup, 370 residents from 28 communities supported by over 100 staff and 70 volunteers participated this year, making it the biggest combined event yet.
If you have never participated in either the Village Victory Cup or Virtual Village Victory Cup, but would like to get involved, please let your Administrator know. It's not too early to make your intentions known. Word on the street is that some teams are already practicing for 2020!