"Spring has Sprung! The Grass has Riz! Do You Know When the Village Victory Cup is?"
Believe it or not, it's that time of year again. It's time to get ready for the 14th Annual PVM Village Victory Cup. Like last year, we will be hosting this year's event at the Suburban Collection Showplace in Novi. The date is Friday, June 21, 2019.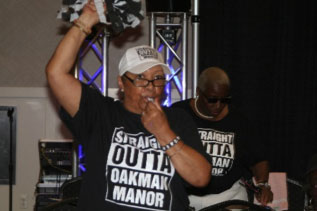 For those of you who may be unfamiliar with this event, it is a fun-filled day of camaraderie and friendly competition between senior living communities that are part of the PVM family. You earn points for your community by participating in a variety of games that involve building puzzles, shooting baskets, throwing beanbags, kicking balls, walking fast, playing balloon volleyball, and this year, writing poetry. The community that earns the most points wins the travelling Village Victory Cup trophy, which currently resides at the Village of Westland.
For communities 100 or more miles from the PVM Home Office, rather than travel to Novi, you have the opportunity to participate in the Virtual Village Victory Cup. The games are the same (with the exception of balloon volleyball) and you play them at your community.
If you are interested in either of these events, ask your administrator how you can join your community's team. At a minimum, you'll enjoy some food, have some fun, and meet a few new people. Or, you might walk away with a gold, silver, or bronze medal and help contribute to your community bringing home the Village Victory Cup trophy or the coveted Spirit Award.